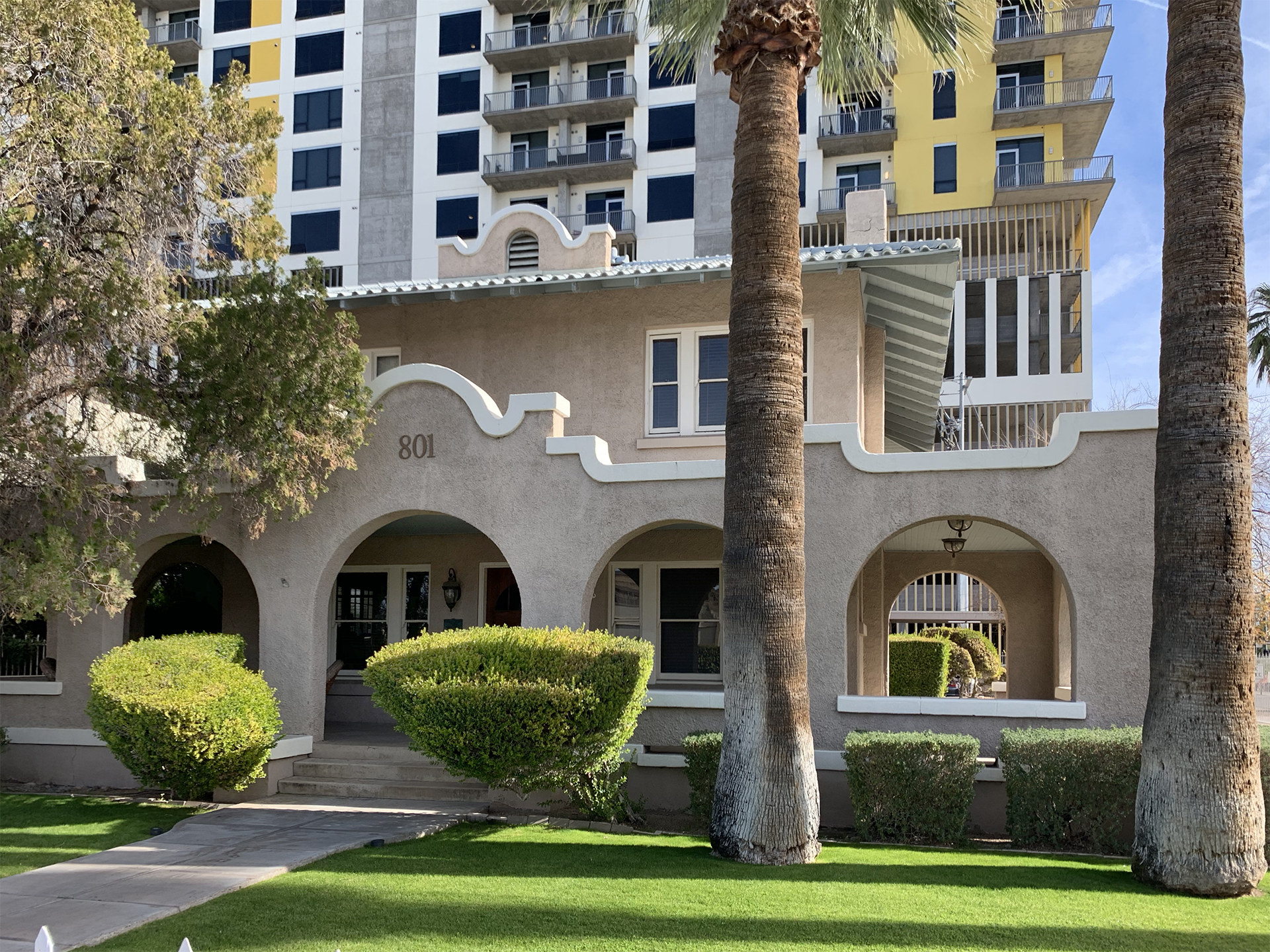 801 N. 1st Ave.
I have driven past this house hundreds of times and thought little of it except that it's a beautiful example of Mission Revival architecture from a past era of grand homes located in central Phoenix. This, and a similar home across the street are now law offices, which seems to be the characteristic modern use of these stately old homes.
The other day when I drove by I was surprised to see the house against a backdrop of the newly completed Stewart apartments — a 19-story luxury highrise. The sight made me wonder about the person who built this house and what they would think of the glass and steel structure looming over it, so I did some digging.
Celora Martin Stoddard, 1886 – 1943, was born in Binghampton, New York and moved to Phoenix with his father, who founded the Stoddard-Binghampton copper mine in Yavapi County. Celora was involved in mining, but also in finance and development. He was president of Stoddard Investment Company and the Stoddard Incorporating Company. A state Senator from 1921 to 1923, Stoddard lost a bid for the Arizona governorship in 1928. In 1919 he sold the house to Lon Harmon, a successful cattle rancher.
After WWI, Stoddard knew that returning service men would face a housing shortage, so he built a 10-unit apartment complex a few blocks away from his home on 1st Avenue. Alexandria Court was a "modern, up-to-date bungalow court," according to an ad in the Arizona Republic. This makes me think that Stoddard may have approved of the "luxury" apartments built to accommodate Phoenix's growing population. He may have even helped finance it!
About the house
Built in 1910 the 2-story house is accented by a hipped Spanish tile roof and surrounded on 2 sides by a covered porch accented with arched openings and a curvelinear parapet wall indicative of the Mission Revival Style. The main entrance to the home is distinguished by the prominent decorative feature on the parapet wall above.
---
Historical images and photo of Stoddard grave courtesy of AZCentral.