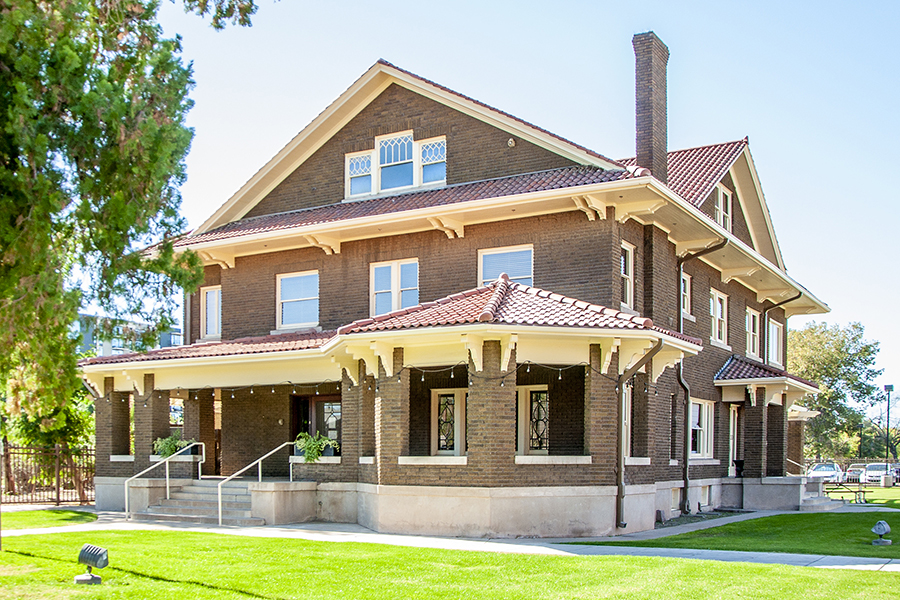 1242 N. Central Ave.
At the turn of the century, much of the small city of Phoenix was clustered just north of the Rio Salado's wide flood plane. After the town suffered through several devastating floods those who could afford to moved to higher ground north of town. During the prosperous teens and twenties, the wealthy began to build Victorian and Queen Anne mansions along Central Avenue (then called Center Street) in an area once known as "Millionaire's Row." The Ellis-Shackelford House is the last remaining (intact) mansion in this area. There are a few other mansions left along Central — most familiar are the Cole Mansion and the Baker House, which together make up the Old Spaghetti Factory. But the Ellis-Shackelford house is the only mansion that remains true to its original form.
Dr. William Ellis moved to Phoenix from Ohio in 1907 and helped establish the Arizona Deaconess Hospital, now known as Good Samaritan. Dr. Ellis employed architect R. A. Gray to design the house, which he built for his wife Reba and daughter Helen. The home was completed in 1917, and employed a number of innovative technologies that were not common in Phoenix such as a cistern to catch rainwater coming off the roof, a solar water heater, central vacuum system, and electricity throughout the house. Stylistically the house is a combination of the Prairie Style* with Mediterranean touches, such as the tiled roof and double wooden brackets under the eaves. High quality detailing included a mahogany staircase and trim imported from the Philippines. The house is three stories with a full basement for a total of 6,600 sq ft. of living space and situated on an acre lot. Daughter Helen and husband Gordon Shakelford occupied the house until 1964. Afterwards it was converted into a boys home, the Arizona Historical Society Museum and now houses Arizona Humanities. Like "Frenchy" Vieux, this house was slated to be demolished during the construction of I-10, but was saved and completely restored in 2013. It can be rented for events — check here for more info.
*For more on Prairie Style architecture, visit the Frank Lloyd Wright Trust
Historical images courtesy of the Arizona Historical Society.