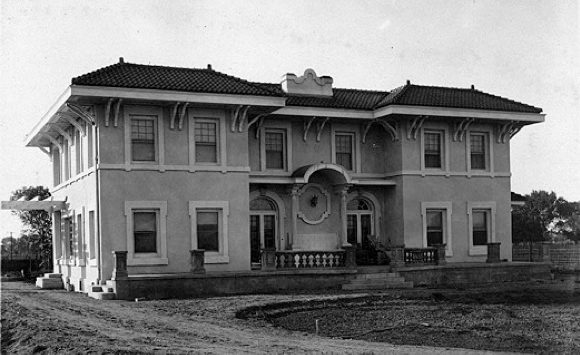 2700 N. 15th Avenue
Dr. James Norton came to Phoenix in 1892 to become first territorial veterinarian of Arizona. In 1912 he purchased acreage north of town where he established a dairy and built this imposing home for his wife Clara and their children. I have seen the house referred to as Mission Revival, and I suppose it has some of those qualities, but I think it's more Italianate/Renaissance Revival. In any case, it must have seemed an elegant and imposing structure, looking much as it does today, sitting alone on a large grassy lawn (a favorite place for croquet and picnics). The house had a large fireplace in the main living room and one in an upstairs bedroom, of which there were 5. Mahogany detailing and beamed ceilings made for an impressive interior. The ceiling beams were hand painted with vine tendrils to match the stained glass windows in the formal dining room. Along the back was a kitchen with butler's pantry and maid's quarters, while upstairs a large sleeping porch ran along the west side. The home was one of the first in the country to have a cooling system — a early version of evaporative cooling.
Norton saw the potential of his land for development, and in 1927 he platted a section to create Del Norte Place, a really beautiful neighborhood west of 15th Ave. that Norton called "the countryside west of town." The homes were mostly small cottage revival styles on tree-lined streets and sold for $5,000 – $7,000. Of course, once the depression hit, the building boom slowed down and by 1934 Norton got out of the home building business. Times were hard, and so he sold his remaining 140 acres and the house to the city. With the addition of another 60 acres from other sources (including Dwight Heard) the city could create its first recreational park.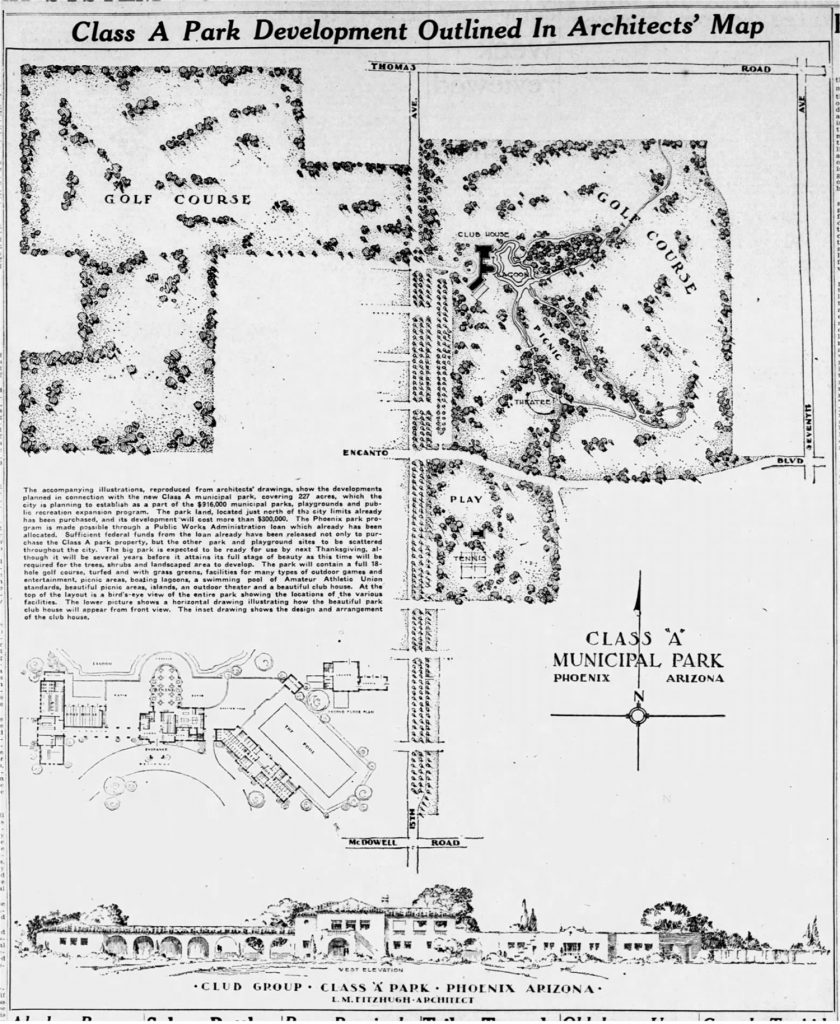 The 200-acre Encanto Park opened in 1937 and was constructed largely by the Works Progress Administration — the New Deal program that built so many public works projects across the US. The park is now on the National Register of Historic Places and included 2 golf courses, a band shell (now gone), lagoons for fishing and boating, a club house, tennis courts, an archery range and plenty of room to run and play. Today the Norton house is used by the City of Phoenix Parks and Rec as administrative offices, and will be going through an extensive renovation soon.
Historic photos courtesy of Historic Preservation Office of the City of Phoenix Neighborhood Services Department