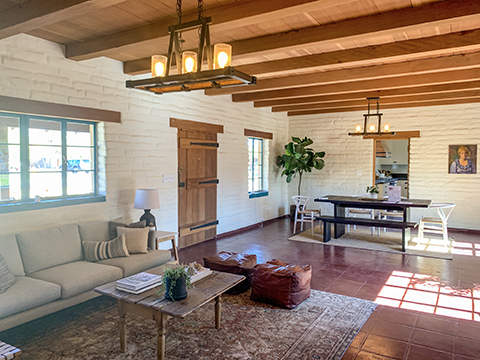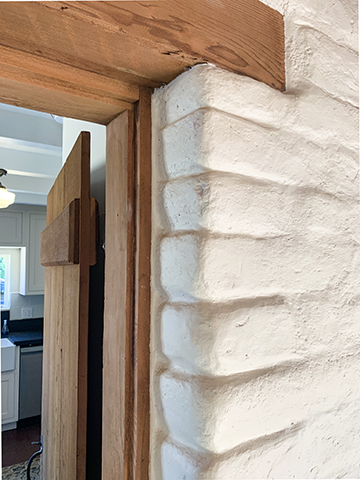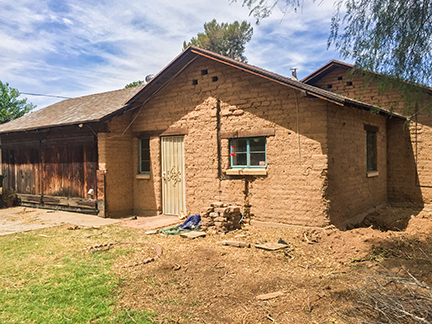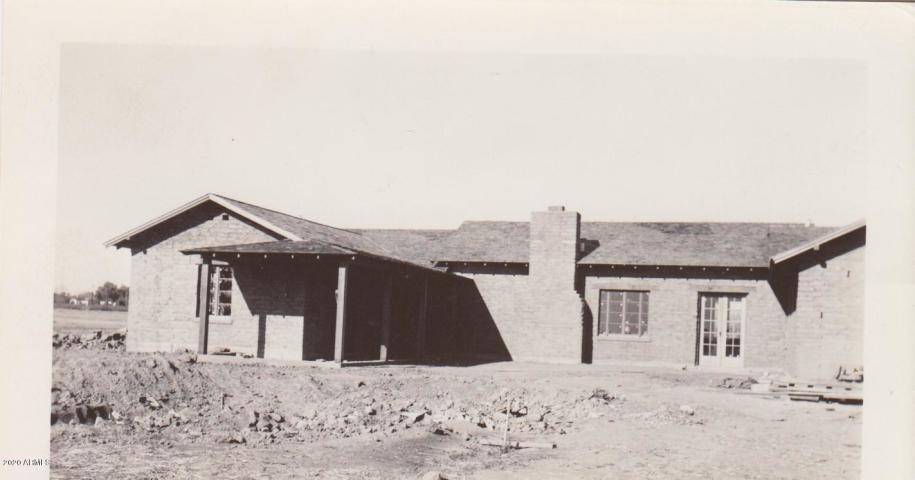 ---
301 W. Oregon St.
I have ridden my bike by this house many times over the past five years or so and I have always been intrigued by it. The first couple of times I rode by it was just empty and neglected. Then I noticed that some work was being done on it, albeit slowly. Now I understand why — this house has been restored beautifully and is now for sale (not my listing)!
Adobe is my favorite building material, and while I have never lived in an adobe home, I remain hopeful. I love the hand made, practical and earthy nature of adobe. The simple mud and straw recipe dates to the prehistoric era and you can see the ancient hand prints of the people who used mud mortar to build their cliff dwellings in places like Canyon De Shelly & Mesa Verde. I love how the thick adobe walls insulate against the heat and cold, but also how they are the spirit—the personality—of the house. Exposed adobe, whether painted or left raw, becomes the focal point of the home and the main decorative feature. This home is no exception.
There are several old exposed-adobe homes in this general area of town (this one is in Medlock Place Historic District) and I often wonder about what type of people chose to build with this plain material. This house was one of the first built in the new South Orangewood subdivision in 1937 by E. Stuart and Frances Howard. Nothing I have read indicates why they used adobe but one account stated that the house was built from the earth on site by "Mexican laborers."
Stuart was a pharmacist and Frances was a homemaker. They had one child, Llewellyn, who eventually inherited the house when both of her parents died. Llewellyn lived in the house and raised her children there, and only recently left to live with her daughter. This means that the house was owned by the original family for 80 years! Unbelievable, right?
As I mentioned, this house has been restored with skill and care. The adobe blocks on the exterior were exhibiting significant deterioration in some places, so they used mud plaster to seal the outer surfaces. I have only seen mud plaster used in Tucson, so this was a builder who knew something about adobe. They also refinished all the hand-made doors and wrought iron hardware. The original floorplan remains, but they did turn the garage into a master suite (the house was originally 2 bedrooms and 1 bath), One of my favorite parts of the restoration is that they left the old garage doors on the outside – nice touch!
This home is offered by Chris Bianco of Weichert Realty. For additional info, check out the listing. You can see more high-quality photos there too.