2233 N. Alvarado Rd.
Look at this amazing story-book home! It looks like the set for a British period film — I can almost imagine Mr. Darcy coming to call for Lizzy Bennet. But it's right here in central Phoenix, and yes, it's undeniably the best example of Tudor Revival/Elizabethan Revival/Eclectic architecture we have.
I have written a lot about the period revival movement of the early 1900s — Spanish Colonial, Tudor, English Cottage, Cottswold, etc., which was a response, some believe, to the modernization and industrialization of America. Wealthy (and not-so-wealthy) homeowners wanted comfortable homes with romantic touches that harkened to a "simpler" time before industrialization caused a mass influx of people from the country to cramped city living.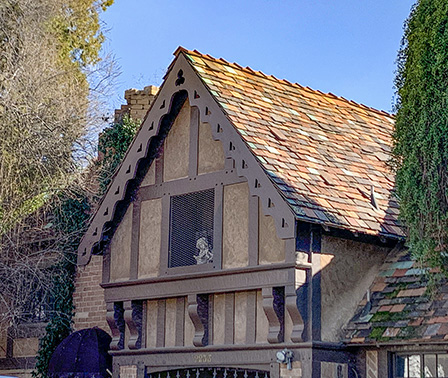 This is exactly what we have in the Carter Gibbs house. But don't let the image of a country cottage fool you — this is a purposefully designed and complex building. It was the creation of Carter Gibbes, a successful interior designer, as a showplace for his talents. The 6,000 sq. ft., 2 bedroom, 2 bath house (plus maid's quarters) was built by Neil Gates in 1930 on a corner lot in what is now the Alvarado Historic District — a small neighborhood just to the east of the Heard Museum with large homes on estate-sized lots originally developed by Dwight Heard.
The L-shaped house maintains it's original floorplan with the exception of the garage on the east side of the home, which was converted into a guest suite. The main living area is on the west side of the home and is accented by a two-story, leaded glass bay window that looks like it was repurposed from an English castle. This wing also contains the dining room and 2 bedrooms with private baths, one of which has a unique, free-standing bathtub/shower combo with a glass enclosure. Along the north wing is the kitchen, breakfast nook, family room basement/wine cellar and a portcullis entrance to an interior courtyard. Portcullis is a fancy word for a medieval gate that opens and closes vertically, like on a moat — you get the picture.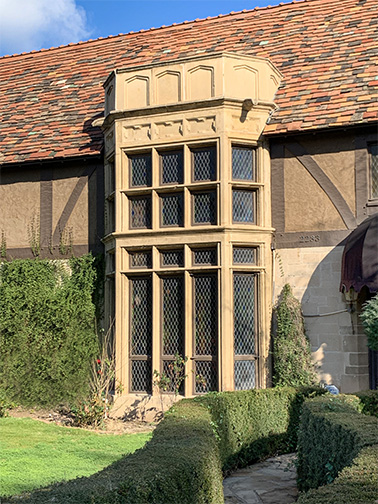 The exterior of the home is amazing and eclectic with a combination of building materials and techniques. This is where Gibbes' genius shows through. By combining masses of different heights and different combinations of materials, the house takes the appearance of a humble cottage that was added to over time. The two-story western facade consists of locally quarried cut and dressed tufa stone on the first story and half-timbering with plaster infill on the second story. The north facade is about 1 ½ stories tall and is built of half timbering infilled with red brick configured in alternating patterns, making it look like a separate construction. As for the roof, interesting hip angles make a perfect palette for randomly colored and sized clay roof tiles imported from England — lending to the charming cottage feel of the home.
From what I have read, the interior of this house is just as impressive as the exterior. The owner has maintained the home in its original state with the exception of a few updates to the kitchen and baths. The open height two-story living room, which is accented by a natural limestone floor and hand-hewn ceiling beams, was designed as the perfect acoustical setting for a large Wurlitzer pipe organ that sadly no longer exists on site. Imagine living room walls clad of cut travertine to a height of ten feet with plaster and half timbering above. A grand Tudor-style fireplace dominates the wall opposite the bay window and I can only imagine the romance of sitting in front of that fireplace on a cold winter day. In the northwest corner of the living room, a wrought-iron spiral staircase leads to a second-story balcony where you can get a closer look at the gargoyles peaking out from each corner of the room (yes, I said gargoyles!). Finally the formal dining room has an ornate carved plaster ceiling in the rococo style with double french doors that open onto a now glassed-in porch with tufa walls, stone fireplace and an inlaid chess board.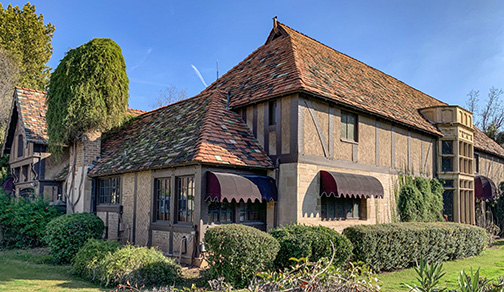 I love this house even though it looks completely out of place in Phoenix. There just isn't a Tudor anywhere in town that is this impressive, in my opinion. The current owner has worked for years restoring and preserving this historic treasure and I hope it stays just the way it is now under the stewardship of an owner who loves and appreciates it.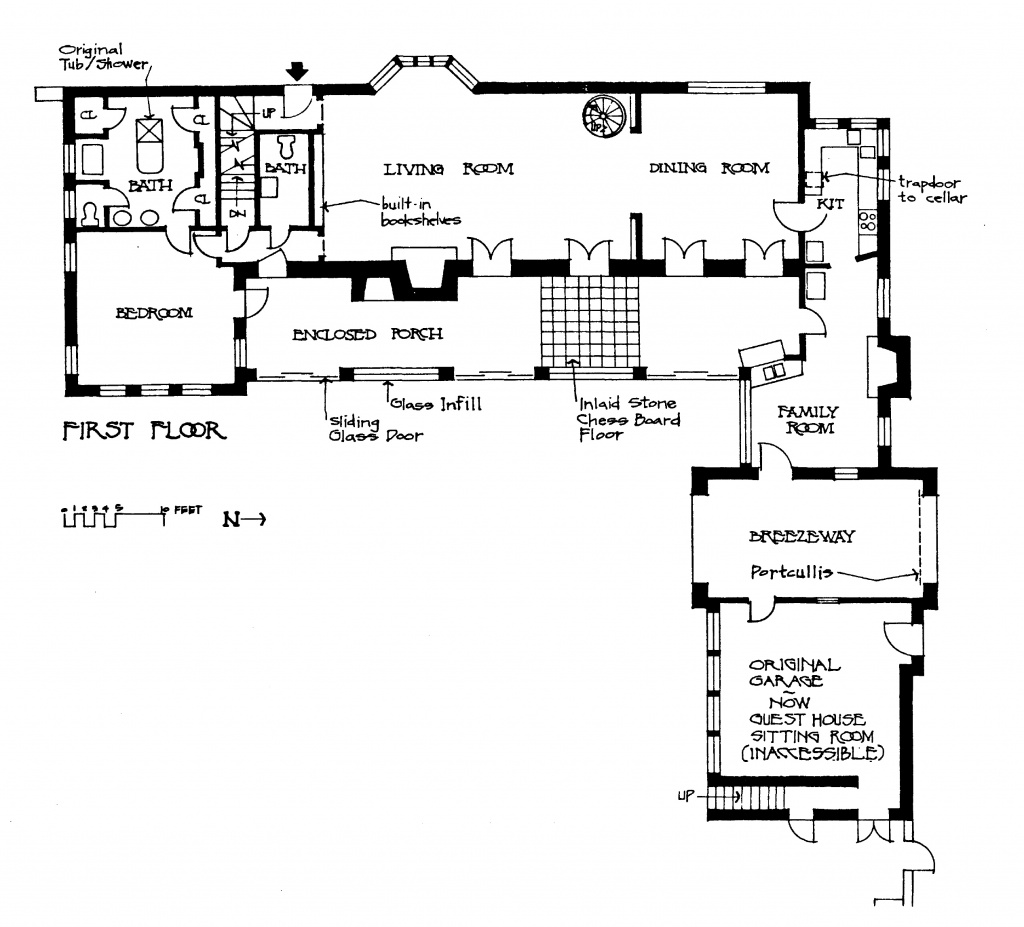 This home is on the Phoenix Historic Property Register and the National Register of Historic Places.